September, 2016
Harvest reflections
It's hard to believe the summer is almost over. (I know, for those of you who just started school it feels over already, but as I write this there are technically a few days left.) It flew by, with a lot of time spent working in the garden and telling stories and singing songs by myself with my friend Roger Tincknell, mostly for summer reading programs at libraries here in Massachusetts. Librarians, especially children's librarians, are some of my favorite people, and I love the joy that many of them take in their work. I remember going to say good-bye to the children's librarian at the Sturgis Library a number of years ago, after a very enjoyable performance (great audience) and found him with one kid on each knee, reading them a picture book. They were having the best time.
I actually met him earlier that summer, at a 4th of July booth in the Hollow in Barnstable, helping kids make red, white, and blue necklaces and bracelets. It's a wonderful tradition. A community parade, followed by a gathering at the old ballfield behind the Unitarian Church. Greased pole, three legged races, face painting, egg and water balloon tosses, pie eating contests and more. My daughter, Nolka, took a picture that year of her cousin Bethany and I getting ready for the egg toss. We didn't get close to winning (her brother, Shaun, and her Dad, Rob, won the event, tossing an uncooked egg over 100 feet and catching it without breaking it), but we had fun.
I love the chances I get to spend at the Cape, in the uninsulated cottage (a converted boat house) that my grandparents bought in the early 40's. Good thing they did, we'd never be able to afford it now. It's a great place to play in the water, go clamming, make puzzles, read, and catch both fish and sunsets. It's also the place where I went on a retreat back in 1980, spending time researching and learning stories, many from The Narrow Land, a book written by Elizabeth Reynard. Watch for a new program inspiried by that book, coming in the spring of 2017.
When we go to the Cape our two cats stay home in Shelburne Falls, and on our return they greet us with much rubbing, meowing, and stretching up for scratches behind the ears. Yorange, a cat who is no longer with us, used to get up on our luggage carrier before we could unpack it, wanting to be petted first.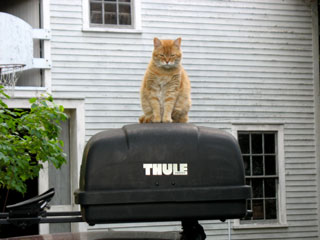 Which reminds me of the story of cat's drum. I first heard it told by Louise Kessel (http://www.carrboro.com/louise.html), a friend of mine from North Carolina, and a wonderful storyteller and artist. It's a traditional African-American story from the south, and when I was telling stories in a New Bedford, MA elementary school one year I found a picture book version of it by Ashley Bryan, called The Cat's Purr, which they were kind enough to give me. (Several editions of this are available on the web, both in soft and hardcover, new and used.)
The version below is a shortened version of the one I tell, which is also different from the one I heard from Louise and the one in the Ashley Bryan's book. That's one of the things I like about storytelling. The way a story can change over time, as the teller changes, and as the audience or community changes. I hope you have as much fun sharing this story as I have.
Cat and a rat were friends who lived next to each other and did everything together. Played together. Worked together. Cat's uncle came for a visit and gave him a tiny drum. It was a cat's drum. Only cats could play it, and it only made a sound if it was stroked gently. It made a small sound, like the thrumming on a tiny, soft motor.
The next day Rat came over to work in the garden with Cat. Cat showed him the drum and Rat asked if he could play it. Cat told him that he couldn't, it was a Cat's drum, but Rat could play spoons with him while he played the drum and they could both make music together. Rat said no, that's ok, he'd rather go work in the garden, but first, could he have a snack?
Sure, said Cat. Rat ate a lot, and then said he had a stomach ache. Cat told him to lie down on his bed, and he'd sit with him until he got better. No said Rat, you go out and work, I'll be out soon. As soon as Cat was out the door, Rat got up, found the drum, and after a while, figured out how to play it. Cat, out in the garden, heard the drum, shouted out, and ran in to find the drum on the floor and Rat lying in bed, clutching his stomach. Rat said he didn't know who had played the drum. His stomach hurt so much his eyes were closed, and he didn't see.
It took several tries for Cat to catch Rat playing his drum, and when he did he started chasing Rat around the house. (This is why Cats chase Rats.) Rat was holding the drum and he turned and threw it at Cat. Cat was yelling at Rat, his mouth was open, and the drum went in his mouth and he swallowed it. Rat jumped out the window.
To this day, all Cats have a little drum inside them. One that anyone can play. If you stroke them gently, behind their ears or under their chin, you'll hear the tiny, soft motor-like sound of their drum, the cat's purr.
That's the story. Have fun sharing it.
Hope the season is treating you kindly,
Best,
Davis